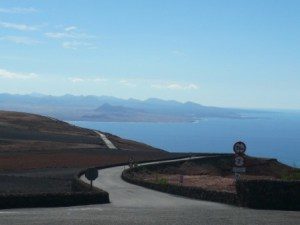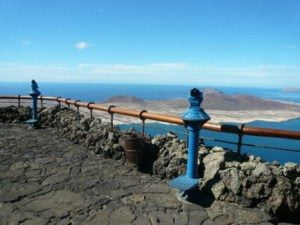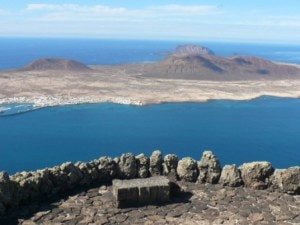 We don't live far from the spectacular view point Mirador del Río and have visited this Lanzarote attraction on a number of occasions with friends or family. The visitor centre has been built into the top of the magnificent Risco de Famara cliffs close to the village of Yé on the Northern tip of Lanzarote.
When you arrive at this Centre of Art, Culture & Tourism, all you can see is the stunning coast road leading off to the left and a semi circular building made from traditional stone walls at the rear of the car park.
Typically Manrique the building has thick rounded stone walls set with features such as the traditional stone water filters and ferns giving a bright green and black contrast to the white paint.
The decoration is sparse but bold enough to draw your eye for a moment before you are wowed with the view.
For those visitors afraid of heights you might not like the outside balcony at the Mirador del Río, there is a drop of 400m below!
The same view can be enjoyed from inside though behind the huge panes of glass set into the stone.
The view over to the island of La Graciosa is amazing, there are telescopes on the viewing platform to allow you to zoom in on the island.
On a clear day you can see the islands of Montaña Clara and Alegranza situated behind and to the right of La Graciosa, which make up the Archipielago Chinijo marine reserve.
A circular staircase leads from the ground floor up past the gift shop to a higher view point from the roof.
It's definitely worth browsing the gift shop, there are a number of books, good quality souvenirs and local products available.
The Mirador del Río should not be missed off a tour of Lanzarote.
Please don't just look at the view from the side of the road, pay the entrance fee and go inside they serve wonderfully chilled bottles of beer and great coffee for you to enjoy whilst admiring the view.
The opening hours are from 10:00 to 17:45 in the summer months this is extended to 18:45.
Entry is €4.75 per adult and €2.40 per child (aged 7-12).
Canarian residents are entitled to discounted prices with proof of residencia at €2.40 for adults and €1.90 for children, Lanzarote residents are €1.00.
Prices valid from 1st May 2017.
If you're planning to visit three or more of Lanzarote's Visitor Centres during your holiday, buy the Discounted Entry Tickets in advance which are valid for 2 weeks.