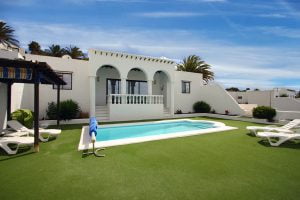 Here is the opinion of our latest guests who flew home this week…
We have stayed in virtually all of the villas offered by
www.lanzarotevillasdirect.com
and found them all to be of a high standard. One of our favourites is Casa Luca and we decided that on finding it available in September 2020 we would take the plunge and try and get away from all the bleak news in the UK over Covid 19. We flew from Manchester airport which was virtually empty and used Ryanair (not our favourite airline) and social distancing was in operation all through the airport and onto the plane and during the flight (which was only one third full). On arrival at Arrecife airport social distancing remained in operation and within 30 minutes we had gone through passport control, the baggage reclaim and picked up our hire car. face masks are the norm in all indoor and outdoor public areas and everybody seems to abide and be at ease with the situation.
On arrival in Nazaret the small supermarket was open as normal and we stocked up on some of our essentials, again feeling safe was the norm, hand gel near the entrance and nobody else in-store. Casa Luca looked immaculate and within an hour of arriving in Lanzarote we were on holiday.
We used the restaurant at Lag O Mar more than usual, three times in fact over the eight days to save on the driving and we even remembered to wear our face masks on the walk up. Restaurant wise El Navorro was open as was Villa Toledo and Good old reliable Domingos (Las Maretas). Sadly Oscars has been closed due to Covid 19 since March and it was also confirmed to us that Monte Marte is no longer open and is to be sold (our favourite French restaurant). For two nights we stayed in the villa and ate food bought from the supermarket.
We had a couple of short drives during our stay to take in a couple of walks along the beach and promenades and felt totally relaxed and safe, unlike the UK everybody abided by the rules and gave you space. It was sad to see Costa Teguise so quiet and the beaches deserted of holiday makers because we knew the effect that this was having on businesses but from a purely selfish point of view it meant that we were safer in Lanzarote than England.
The flight back was again only one third full and we had no issues at the airport at all in Lanzarote, check in was a doddle as we were in a queue of one couple (us!). Social distancing was in operation in the departure lounge, easy when every other seat had been removed. Arrival back in Manchester was fine even the normally crowded passport control which was empty and we breezed through, picked up our suitcases within minutes we were picking up our car and driving home.
At present 48 hours before you arrive in Lanzarote you have to go on-line and fill in a form detailing where you are staying, how long etc and show it at passport control either printed or on your phone, we found that the queue for phone scanning was longer than the printed version one. It was taken seriously by the staff at the airport.
Before arriving back in the UK you have to do the same 48 hours before return, sad to say when we arrived back in Manchester an unmanned trestle table had been set up and no one was on hand to take or scan your form and we wonder why we are struggling to cope with this awful virus.
Take it from us Lanzarote is far safer than the UK.
Derek & Betty Wadeson, St Helens, England.